Mr. Sridhar Jayanthi – Guest Speaker @ DEF CON (DC9180) Bangalore – Senior VP and Head – McAfee Software (India) Pvt. Ltd.
MAY 28
Posted by defconbangalore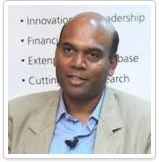 Sridhar Jayanthi
Senior Vice President of Engineering & Managing Director, India
McAfee Software (India) Private Ltd.
Today we received a mail from Mr. Sridhar Jayanthi, confirming his presence as a guest speaker at DEF CON Group Bangalore Meet. In this post, we introduce you to Mr. Sridhar.
Sridhar Jayanthi has been the Senior Vice President of Product Development and Managing Director, McAfee India Operations since 2002. He is responsible for the product development, organizational growth, and operations strategy for the multi-function India site. This operation comprises of product research and development, technical support and other business operations. The India operation is the largest R&D site globally and also the largest site overall for McAfee worldwide. Sridhar is a member of McAfee's global management team (GMT), a strategic team consisting of executives from all functions and geographies, which is responsible for overall company strategy, direction, policy, communication and execution.
Prior to McAfee, Sridhar was the Vice President of Software Engineering with InteQ Corporation, Boston, where he took on the challenge of creating a software product group in a consulting company. Prior to that at Emerson Electric (Intellution), Sridhar managed the development and support of a batch manufacturing automation software product developed and deployed jointly with global manufacturing corporations. Sridhar was also involved in the development of Pro/Engineer, a mechanical design software product, at Parametric Technology Corporation before joining Emerson Electric.
Sridhar's background includes experience in building product development teams in the US and managing offshore operations both from India and the US. Sridhar established the India site in 2002 and now manages over 40 product teams, with over a dozen profitable and strategic products fully engineered in India, four with product management and P&L ownership.
Sridhar frequently contributes management and leadership articles and has appeared on Indian radio and television programs such as NDTV's leadership profiling show "Boss' Day Out". Sridhar has a Bachelors degree in Mechanical Engineering from University of Madras and Master's degrees in Engineering from State University of New York and Northwestern University. Sridhar can speak fluently in English, Kannada, Telugu, Tamil, and Hindi. Sridhar loves travel, cricket, running, and badminton, and is also a golf dilettante.
We proudly welcome you to our Meet sir. Thanks a lot for your confirmation.
With Regards
Team DEF CON Bangalore Group
Posted in Uncategorized
Leave a Comment
DC9180 – Invitation for the September '12 Meet
APR 26
Posted by defconbangalore
---
We would like to Invite all of you for our very first meet at the Silicon City of India – Bangalore, to be held on 9th September 2012.
Ticket Bookings Opening shortly!
---
Greetings!
This inaugural blog post comes as a result of a partnership between the Defcon Chennai Chapter and The Defcon Bangalore Chapter.
What is Defcon?
According to Wikipedia excerpt :- "DEF CON (also written as DEFCON or Defcon) is one of the world's largest annual computer hacker conventions, held every year in Las Vegas, Nevada. The first DEF CON took place in June 1993. Many of the attendees at DEF CON include computer security professionals, journalists, lawyers, federal government employees, crackers, cyber-criminals, security researchers, and hackers with a general interest in computer code, computer architecture, phone phreaking, hardware modification, and anything else that can be "hacked"."
What is Defcon Bangalore Chapter?
Defcon community has many interest groups running a local chapter – national and International ones. In the Bangalore region, in India, we run this Defcon Community Group (DCG) under our official ID – DC9180. We organise hacker meets and get togethers, being a platform for all information security evangelists to showcase their knowledge amidst others though our meets.
Our previous meet held in January 2012, in Chennai, at Le Waterina Resort, was an exciting event and a grand success, and we request your support and co-operation to make this event bigger, better and a grand success.
Cheers!
OFFICIAL MEDIA PARTNER

ANDHRAHACKERS.COM

OUR TWEET BOX
Defcon Bangalore Meet, Ticket Bookings Open!! register soon.. Limited tickets! defcon-bangalore.org/2012/05/08/tic…4 weeks ago
CTF and Beer Party included this time in the event!! Pack your bags for defcon bangalore at the silicon city 😀 \m/4 weeks ago
Defcon bangalore Meet scheduled on September 9th, 20121 month ago
Official twitter feeds about defcon bangalore chapter – DC91801 month ago
DEFCON BANGALORE CHAPTER
Posted in Uncategorized
Leave a Comment
Blog at WordPress.com. Theme: Mystique by digitalnature.